Company Profile
Creact Corporation
Be Creative and Active

About us
Our mission
Introducing sensors & systems with the world class "Edge" and "Unique" technologies to Japanese researchers in universities, institutes and companies to contribute to develop Japanese science and technology.
Introducing assistive equipment using the world class "Edge" technology to contribute to improve the quality of life for people with disabilities in Japan.
Based on long-term prototyping experience and world class edge technologies, developing new and unique products with scientific research.
Finding for new products and new technologies always.
Who we are
Originally, we have developed prototypes from electrics company at Gotanda in Japan since 1976.
Since 1992, we have introduced eye tracking system as the first and then various bio sensors.
Since 2012, we have introduced assistive technology products.
We are small company, but we have 3 main business units at still Gotanda in Japan now.
Our customers are mainly universities, research institutes, companies and individuals widely.
With more than 40 years of experience, we do the best for each business units to keep customer satisfaction, partner satisfaction and employee satisfaction.
Our story
1976
Established Creact Corp.
1979
Developed Image transfer system
1980
Developed CRT analysis system
1992
Established Creact International
1992
Contracted with ISCAN (U.S.A) / Eye tracking system
1998
Contracted with InterSense (U.S.A) / Motion tracking system
1999
Contracted with MicroStrain (U.S.A) / Angular and displacement sensors
2005
Contracted with Tobii Technology (Sweden) / Eye tracker
2005
Developed Virtual Halcination simulator
2005
Developed Memory grabber
2008
Developed Virtual ADHD simulator
2008
Established Tobii Japan (Joint venture with Tobii in Sweden)
2012
Contracted with Tobii, Assistive Technlogy Business Unit
2014
Contracted with Plux Wireless Biosignals (Portugal) / biosignals device
2015
Released @ATTENTION system for evaluation of unilateral spatial neglect space and rehabilitation
2016
Contracted with SBG Systems (France) / IMU High-end MEMS type
Contracted with Alcielo (Israel) / IMU FOG
2019
Contracted with GaitUp (Swiss) / IMU based gait & running analysis
Contracted with ThermoHuman (Spain) / Thermography analysis
Contracted with Artise Biomedical (Taiwan) / EEG brain monitoing
Merged Creact Corp. and Creact International to Creact Corp.
2020
Contracted with Xenoma (Japan) / Wearable motion tracking
2021
Contracted with Furhat Robotics (Sweden) / Social robot
2023
Contracted with CardioID / Cardiac signal analysis
Our partners
ISCAN,Inc. / Eye Tracking System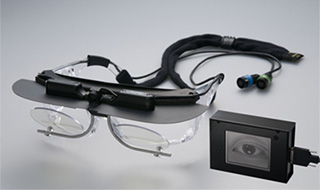 Since 1980, ISCAN has provided the finest video based eye and target tracking equipment available, for use in diverse applications by corporations, universities and research laboratories worldwide. ISCAN is the world's premier manufacturer of video based eye movement monitoring equipment, having sold thousands of systems and providing the broadest range of products with unsurpassed tracking accuracy, ease-of-use, subject acceptance and product support. ISCAN offers standard configurations and can customize systems to meet the most challenging needs of our customers.
MicroStrain(Parker LORD) / IMU, Wireless Sensor Network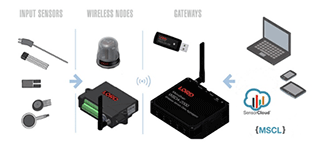 Welcome to LORD, MicroStrain® Sensing Systems. They make tiny sensors and systems that are used in a wide range of applications, including advanced manufacturing, off-highway vehicles, commercial and military manned and unmanned vehicles, civil structures, and down-hole tools. Their sensors have won numerous awards and we pride ourselves on being both innovative and responsive to customers' unique requirements.
MicroStrain® Sensing Systems business is based in Williston, Vermont and began in 1987.  Their early development focused on producing micro-displacement sensors for strain measurement in biomechanics research applications. Their first sensors were designed for arthroscopic implantation on human knee ligaments; since then, they expanded their  product line through continual product improvement and expanded their market reach.
They introduced a broader line of micro-displacement sensors that could withstand extreme temperatures, hundreds of millions of cycles, and complete submersion in saline. The aerospace and automotive industry found MicroStrain's sensors met their requirements, and MicroStrain has worked on many groundbreaking projects in these markets.
As their customer base expanded, we continued to innovate by combining multiple sensors along with advanced micro controllers to enhance system performance. They were one of the first sensor companies to add wireless capability so that low power, miniature digital sensors could communicate easily with personal computers and send data to the internet.
Their inclinometer product line was initially developed to measure angles of limbs to help re-animate the limbs of paralyzed individuals. The tiny, lightweight gyro-enhanced orientation modules that resulted from this effort found immediate acceptance for navigation and control of unmanned systems in the military, exploratory robotics applications and measurement feedback for down-hole tools.
Sensors are literally changing our world; MicroStrain is inspired to work with customers to introduce advanced sensing technology that will enable the next generation of smarter and safer machines, civil structures, and implanted devices.
Tobii dynavox AB / Assistive Technology Products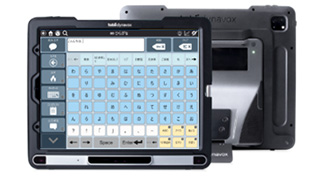 It began with two assistive technology pioneers: Sweden-based Tobii Technology and U.S.-based DynaVox. In 2014, the companies merged to give a voice to people with disabilities worldwide.
Better Together
Partners in empowerment
Tobii Technology's May 2014 acquisition of DynaVox merged two companies dedicated to raising the quality of life for people with communication and mobility challenges. While Tobii had become the leading provider of eye tracking solutions for communication and computer access for individuals with ALS, Rett syndrome, spinal cord injury and cerebral palsy, DynaVox was the premier source for AAC solutions for speech, language and learning challenges related to autism, aphasia, cerebral palsy and other neurological disorders.
A global force
The union of the two companies gave the new entity an even stronger geographic presence in existing and emerging markets around the globe.
Today Tobii Dynavox has a presence in over 60 countries via a network of direct and partner sales, with offices in Sweden, the US, Norway, Germany, France, the UK, China, and Japan. Through its nearly 500 employees and a global network of partners, the company reaches thousands of people, empowering them to more fully engage in life via technology.
novel GmbH / Pressure Mapping System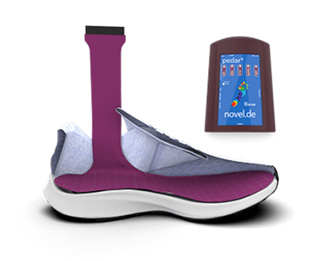 With more than 40 years of experience, novel is the global leader in accurate and reliable load distribution measurement systems. The company has developed several system families that are able to measure contact forces between many surfaces, for example between hand and tool, foot and shoe, buttock and airplane seat, or car tires and the ground. All novel systems operate with high quality, calibrated sensors and provide reliable and reproducible long term measurements. Outstanding scientific software for the analysis of medical and industrial data allows the user to be always one step ahead.
TEA / Integrated Human Behavior Analysis Platform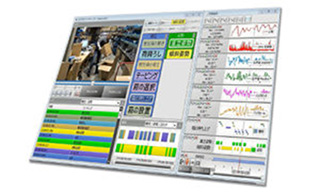 TEA(Technology, Ergonomics, Applications) specializes in the development, supply and imprementation high-end sensors, measurement and analysis solution for a variety of research topics: Human Motion in the Lab or in the real world, Workplace Safety Simulation, Head-Face and Eye Tracking.
EyeTracking,LLC. / Eye Tracking System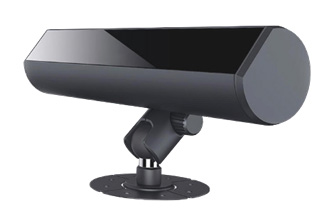 Over two decades ago, the field of applied eye-tracking research began with them. Their founders, a team of researchers and cognitive scientists from San Diego State University, were researching cognitive modeling and assessment for the US Department of Defense, but their breakthrough developments had value far beyond the military. So, in 1999, they established EyeTracking to offer their unparalleled expertise and technology to the commercial sector.
Since then, they have continually pushed the boundaries of science in visual behavior and physiological measurement. The EyeTracking team consists of the top minds in eye-tracking and related disciplines, including statistics, cognitive science, experimental design, and software engineering. Their work has led to groundbreaking publications, innovative technology, and the steady growth of the eye-tracking industry. They are proud to transform scientific discoveries into practical tools that make a meaningful difference to our clients and the people who use their systems.
Advanced Brain Monitoring / EEG Brain Monitoring Device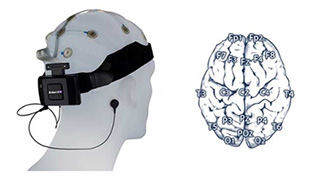 Advanced Brain Monitoring is a neuro-diagnostics device company internationally recognized for its innovative technologies. Their products are used by clinicians, researchers and in clinical trials to interpret brain and physiological function as they relate to chronic diseases and early stage neurodegeneration, and to improve sleep quality and enhance performance.
Over the past 20 years, Advanced Brain Monitoring has challenged conventional thinking by developing innovative medical devices that provide a superior patient experience, lower healthcare costs, and improved quality of care. Among their achievements:
Their medical devices have been used on over 1.5 million patients world-wide.
They have been awarded over 40 research grants totaling over $37mm.
Their clinical studies have resulted in over 100 scientific publications.
Their research investigations, which have included over 5,000 participants and funded in large part by the National Institute of Health, Department of Defense Advanced Research Projects Agency (DARPA), and other government agencies, have resulted in over 30 important scientific finding.
Arrington Research,Inc. / Eye Tracking System
ARRINGTON RESEARCH was founded in 1995 by Dr. Karl Frederick Arrington. It has grown to become a global leader in innovative eye tracking technology with more than 2000 systems sold worldwide.
ARRINGTON RESEARCH, Inc. is committed to providing affordable technological solutions that make the world a better place.
CyberGlove Systems LLC. / Data Glove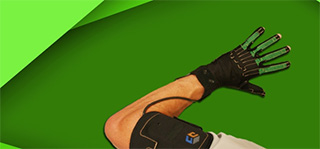 Cyber Glove Systems is the worldwide leader in data glove technology and offers the most sophisticated hand-centric 3D motion capture solutions in the marketplace.
CyberGlove Systems' products include four different data glove solutions and its VirtualHand Software Development Kit (SDK).
Its products allow users to capture detailed finger, hand, and arm movement in virtual reality, allowing users to interact with digital objects in the virtual environment.
CGS technology benefits customers by allowing them to more quickly prototype and animate in virtual reality thereby saving them both time and money. Furthermore, CGS is the only data glove solution offering both kinesthetic force and vibrotactile feedback.
This haptic technology benefits customers by simulating realistic physical forces such as gravity and touch for industrial engineering, military, and academic research applications.
CGS customers include Fortune 500/Global 500 corporations, government agencies, and universities in the U.S., Europe, Asia, Middle East, and South America.
Established in 1990, the CyberGlove Systems family of products remains the most trusted and widely used data glove solution today with the very best customer support. In 2009, the CyberGlove business was divested by its former parent company, Immersion Corporation.
The base CyberGlove® system is a wireless data glove that accurately captures the movement of a user's fingers and hand, and, in conjunction with the software, maps the movement to a graphical hand on the computer screen, allowing users to "reach in and manipulate" digital objects as if they were physical objects.
The most sophisticated product, the CyberForce®, adds whole-arm force feedback allowing users to experience the complete sensation of object manipulation in virtual reality.
Cordin Inc / Ultra High Speed Camera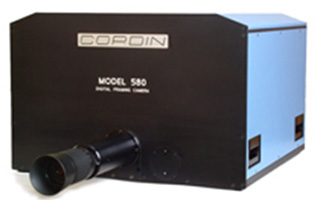 For Over 60 years, Cordin has been at the Pinnacle of High Speed Imaging.
Cordin offers the fastest and highest quality scientific camera systems in the world: multichannel/multi-CCD framing cameras, image converter and rotating-mirror streak cameras, and compact single-chip framing cameras.
Cordin's broad product line features essential tools for ultra-high speed photography, including powerful light sources, precise digital time delay generators, and reliable high-voltage trigger pulsers.
Cordin has built its reputation by working directly with end users to develop custom solutions to imaging challenges.
Instrumented Sensor Technologies / Shock Sensor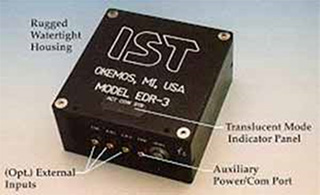 Instrumented Sensor Technology, Inc. was founded in 1987 to design, develop, and manufacture digital data recording technology to serve a variety of worldwide markets.Today our Okemos, Michigan based company employs a staff of around 20 engineers and technicians.
Sensor Products LLC / Pressure Mapping System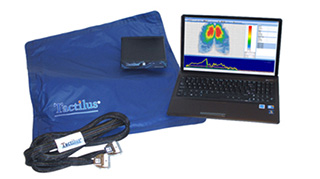 Tactilus is a new electronic tactile force and pressure-indicating sensor. Tactilus allows an engineer to monitor precisely how force is dispersed between any two contacting or mating surfaces in real-time while the event occurs.
MIMBUS / VR Industrial Simulator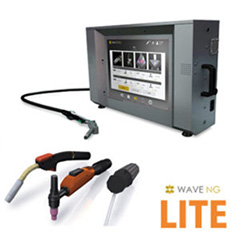 WAVE NG is a virtual welding environment dedicated to welding training. It does not replace existing trainings. It brings a pedagogical improvement through the optimisation of the gesture learning and the concentration requested from the forthcoming welders.
Plux Wireless Biosignals S.A. / Biosignals Device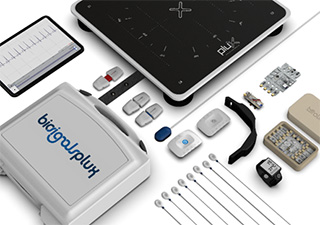 Since 2007, their goal is to facilitate the access to solutions that cover the entire biosignals life cycle & drive biosignals innovation, from learning the first steps with BITalino, research with biosignalsplux, up to developing your next medical device. They  provide the biosignals engineering tools & services to build your biosignals products & medical devices while meeting all industry standards and beyond.
biosignalsplux is a versatile multi-sensor platform designed for biosignal acquisitions in R&D.
Collecting raw, medical-grade and multi-sensor data is a common challenge in R&D projects. biosignalsplux takes on this challenge by providing all the tools you need to use almost any sensor combination you need for your biosignals project.
Whether you chose from our growing portfolio of 20+ sensors or decide to add third-party sensors to your setup, biosignalsplux provides the right tools for you.
In addition, we open up the access to the acquired data by providing ready-to-use signal acquisition software and Application Programming Interfaces (APIs) for those cases where you prefer to write your own signal processing solutions.
OpenSignals is the go-to software for acquiring, processing, and analyzing biosignals with biosignalsplux or BITalino in real time. Whether you're a researcher, educator, or student, OpenSignals provides you with the tools you need even for those without extensive technical expertise.
Simply connect your device, select your desired signal, and start recording. OpenSignals supports a variety of sensors, including ECG, EMG, EEG, and more and even allows you to stream the sensor data in real-time to third-party software using our TCP/IP and Lab Streaming Layer (LSL) streaming features.
But OpenSignals doesn't stop at acquisition. With various post-processing add-ons, including filtering, artifact removal, and signal analysis, you can extract meaningful insights from your data quickly and easily. The add-ons are designed to be user-friendly, so even novice users can make sense of their data without needing extensive technical knowledge.
SBG systems / IMU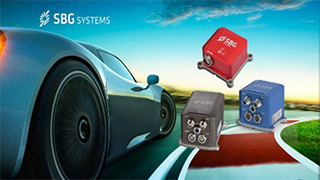 SBG Systems is manufacturing innovative IMU, AHRS, INS for more than 15 years, addressing the most exciting markets.
SBG Systems designs, manufactures, and support an extensive range of state-of-the-art inertial sensors such as Inertial Measurement Units (IMU), Attitude and Heading Reference Systems (AHRS), Inertial Navigation Systems with embedded GNSS (INS/GNSS) , etc.
SBG Systems takes the most of the MEMS technology by combining strict sensor selection with advanced calibration techniques and embedded powerful algorithms to offer miniature and low-cost solutions while maintaining very-high performances at every level.
SBG Systems offers advanced inertial navigation systems for driverless cars as well as unmanned systems whether they are land, aerial, or marine.
From hydrography to mobile mapping and aerial cartography, SBG Systems offers a complete solution including the IMU, PPK software and services.
Their inertial sensors provide excellent motion sensing and heave monitoring useful in various markets such as car testing, buoy, gimbaled camera, etc.
Simi Reality Motion Systems GmbH / Markerless Motion Tracking System

Simi manufactures high-end image-based Motion Capture and Analysis Systems for movement and behavior analysis.
Simi systems are high-speed camera based systems using state of the art industrial image processing technology. Their mission is to develop high end image based movement analysis technology with a clear focus on the user friendliness.
Their products and applications range from top research facilities to practical applications in daily activities. Their solutions are tailored to their customer's needs and we foster a very close cooperation with Their customers.
Simi was founded by Andreas Russ in 1992. The markets Simi serves are data capture and analysis of movement analysis for medicine, sport, industry and entertainment. Since May 2019 Simi is a subsidiary of ZF Group. At this point our founder Andreas Russ retired and delegated management responsibilities to his sons Pascal and Philipp Russ as Co-CEOs.
MindMaze / Gait Analysis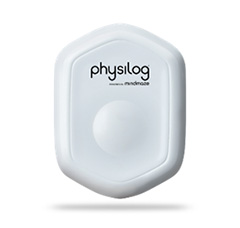 Founded in 2012, MindMaze is a global leader in brain technology with a mission to accelerate humanity's ability to recover, learn and adapt. With over a decade of work at the intersection of neuroscience, biosensing, engineering, mixed reality and artificial intelligence, we have enhanced the recovery potential of patients with neurological diseases.
Combining their FDA cleared and CE marked digital therapeutics with best-in-class motion analytics, AI and cloud technologies, their goal is to create the universal platform for brain health.
Expanding their impact beyond healthcare, MindMaze Labs is their enterprising R&D division tasked with bringing their ground-breaking neuroscience to everyday life. By harnessing the power of the brain, their neurotechnology will empower the next generation of human-machine interfaces.
Artise Biomedical Co., Ltd / EEG Brain Monitoring Device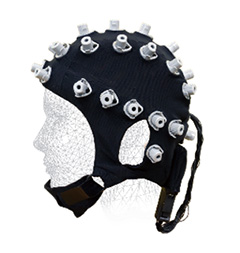 Artise Biomedical Co., Ltd (Artisebio) was found in 2011 by a group of doctors and engineers to develop and to distribute surgical skeleton products. Artisebio has partnership with GMP approved manufacturers in Taiwan and China. Also, their team has more than 23 years of experience on medical device marketing and product certification. In 2017, after years of R&D, Artisebio established a new business unit, focusing on brain computer interface (BCI) field, providing research grade electroencephalograph (EEG) systems as well as medical grade products on human brain health.
At Artisebio, their vision is to embed neurotechnology into daily life. They offer smart wearables for biometric data to characterize human behavior and cognitive status, applying on healthcare, education, marketing, and more. They welcome collaboration opportunities to build advanced neural gears to spiking the future.
ThermoHuman / Thermography Analysis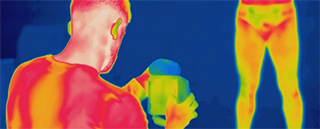 ThermoHuman is a pioneer european company from Madrid (Spain) specialized in the application of infrared thermography in sports, health and research sectors.
ThermoHuman online software analyses automatically thermal images using computer vision and deep learning algorithms. In seconds ThermoHuman provides the most complete metrics from more than a hundred body regions (both data and its representation with avatars), helping professionals to better understand human physiology and take decisions to prevent injuries, monitor them or support the diagnosis of pathologies or injuries.
Xenoma / IMU based Motion Capture Suit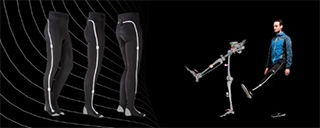 Achieving true preventive medicine using technology that allows anyone to measure medical data.
If they could "wear" sensors as a clothing all over the body, it would revolutionize healthcare data measurement.
Mr. Ichiro Amimori was fascinated by the possibilities of stretchable electronic circuits when he participated in the University of Tokyo/JST ERATO Someya Bio-Harmonic Electronics Project in 2014 before starting Xenoma.
Their smart apparel e-skin is a clothing-type IoT device that is machine washable and comfortable to wear.
Since e-skin has a feature that it enables everyone to measure medical data correctly without any special skill or knowledge just by wearing it, they have developed a 3-lead electrocardiograph shirt that allows patients to test themselves at home and launched the ambulatory ECG monitoring mail service in May 2022.
Xenoma will be a driving force for the spread of medical testing at home and not only contribute to the prevention of cardiovascular and other diseases but also strive to realize the true preventive medicine that can prevent onset by catching signs utilizing our data analysis technology.
Furhat Robotics AB / Social Robot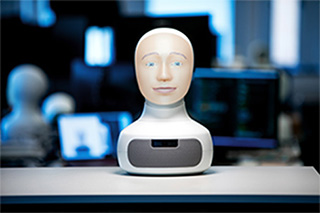 Furhat Robotics builds social robots that empower people to interact with technology the way they humans interact with each other.
They are Furhateers: a passionate group of scientists and explorers, on a mission to truly understand humans and to create more humane technology.
CardioID / Heartmetrics Expertise

CardioID extracts knowledge from multivariate analysis of electrocardiographic signals (ECG) to develop human factors-related devices and applications. Combining expertise on Artificial Intelligence and Human-Machine Interaction, they carry out the entire production cycle, from the design of electronic circuits to the finished product, including embedded software programing, development of signal processing algorithms, and data analysis.
With CardioID's patented technology, they provide robust solutions for the Automotive and Healthcare industries, leveraging their research and development effort to understand biosignals, taking into account human capabilities, limitations, and characteristics.
Become Creact Partner.
Please contact to "info@creact.co.jp".
R & D Service
Development of Measuring System
Design of Analog & Digital Circuit
Design of Printed Circuit Board
Main customers
Canon, Inc.
University of Tokyo
Kyoto University
Osaka University
Nagoya University
Hokkaido University
Tohoku University
Kyushu University
Tokyo Institute of Technokogy
University of Tsukuba
Kobe University
Waseda University
Keio University
Juntendo University
Teikyo University
AIST
RIKEN
NICT
QST
TOYOTA
SUZUKI
SUBARU
DAIHATSU
NISSAN
HONDA
MAZDA
MITSUBISHI MOTORS
YAMAHA
KAWASAKI
And more…
Company Data
Head Office
1-8-13 Higasigotanda, Gotanda Masujima Bldg.4F Shinagawa-ku, Tokyo 141-0022 Japan
TEL:81-3-3442-5401
FAX:81-3-3442-5402
e-mail: info@creact.co.jp
Website: http://www.creact.co.jp
Established
January 1, 1976.
Number of Employees
15
Capital
JPY42,000,000.-
President & CEO
Nahoko Sagarifuji
Managing Director
Kentaro Orioka
Main Banks
Tokyo Mitsubishi Bank (Gotanda branch)
Mitsui-Sumitomo Bank(Gotanda branch)
Access Map